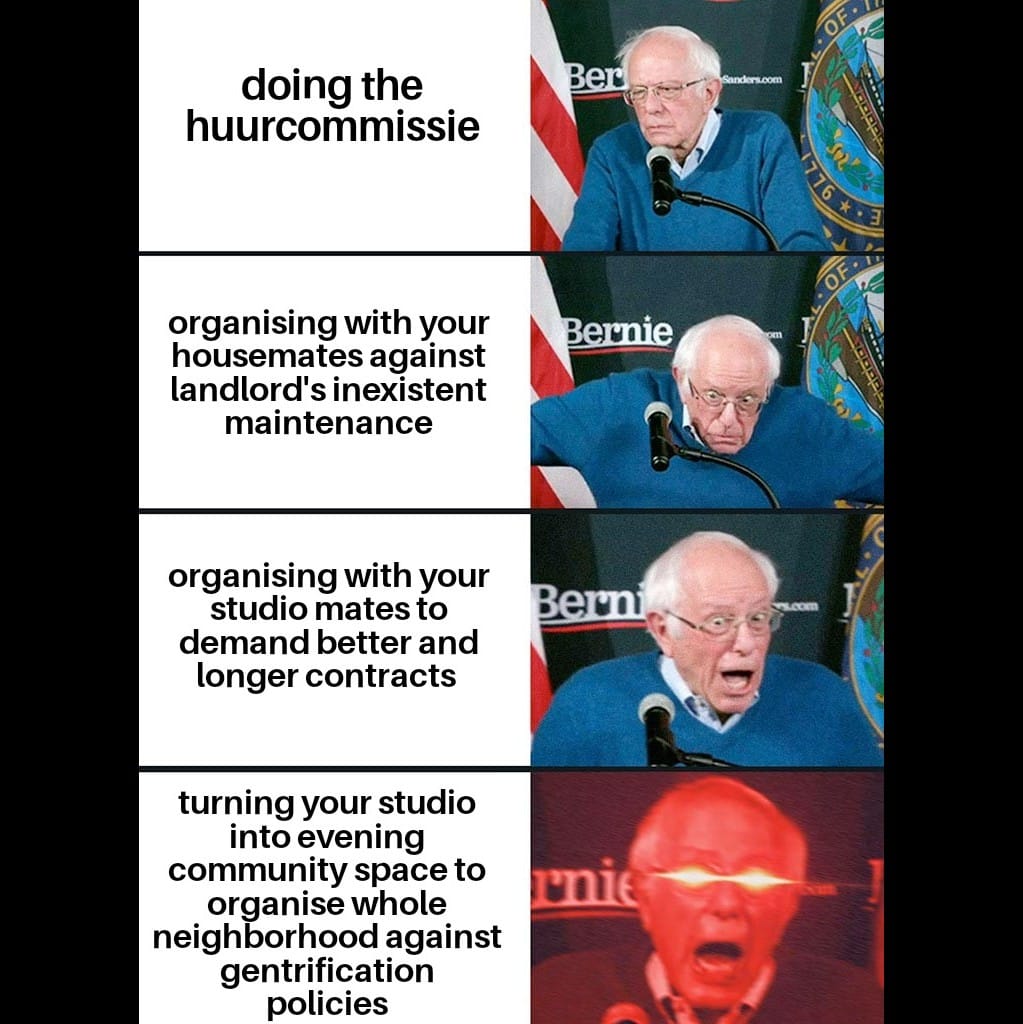 #10 Imagining beyond gentrification
Wednesday 26 january
19.00 – 21.00 @ Sluisjesdijk 151, 3087 AG Rotterdam
During our previous session we had the joy of listening to the fascinating story of Zelfbeheer De Teil. Rooted in squatting activism De Teil organized as a zelfbeheer and managed to maintain full control of their finances and their maintenance for 25 years despite changing owners and being threatened by municipality's neoliberal visions.
This week we find ourselves deep in the port of Rotterdam, in an ex-office building turned antikraak atelier threatened by imminent eviction. Amidst the bad news Maja and Rebecca will share how speculating on a future human consciousness can be used as a conceptual tool to imagine a better world. Why is radical imagination necessary to de-gentrify our minds?
As always, there will be some food available, bring along snacks or drinks if you are able to contribute.We will follow covid safety guidelines keeping distance and wearing masks.
Anti-Gentrification School is a school in process, with a grassroots curriculum built for and by cultural workers, neighbours, students and residents to collectively learn, unlearn and develop clear tactics and strategies to resist gentrification within our communities. We all have something to share and something to learn. Bring your concerns, questions, stories and experiences so we can start mapping our complicity and entanglement in the process of gentrification.
Accessibility info: The building is unfortunately not accessible to wheelchairs. The discussion will be this time mainly in English.To RSVP or if you have any questions please email us: cultural.workers.unite@gmail.com
-NL-
#10 Verbeelding voorbij gentrificatie
Woensdag 26 januari
19.00 – 21.00 @ Sluisjesdijk 151, 3087 AG Rotterdam
Tijdens onze vorige sessie hadden we het genoegen om te luisteren naar het fascinerende verhaal van Zelfbeheer De Teil. Geworteld in het kraak activisme organiseerde De Teil zich als zelfbeheer en slaagde erin om 25 jaar lang de volledige controle te behouden over hun financiën en hun onderhoud, ondanks het feit dat ze van eigenaar wisselden en bedreigd werden door neoliberale visies van de gemeente.
Deze week bevinden we ons diep in de haven van Rotterdam, in een ex-kantoorpand dat is omgetoverd tot antikraak atelier dat bedreigd wordt door een dreigende ontruiming. Te midden van het slechte nieuws zullen Maja en Rebecca met ons delen hoe het speculeren op een toekomstig menselijk bewustzijn kan worden gebruikt als een conceptueel hulpmiddel om een betere wereld te verbeelden. Waarom is radicale verbeelding nodig om onze geest te de-gentrificeren?
Zoals altijd zal er wat te eten zijn, breng hapjes of drankjes mee als je in staat bent om bij te dragen. We zullen de covid veiligheidsrichtlijnen volgen en afstand houden en maskers dragen.
Anti-Gentrification School is een school in proces, met een grassroots curriculum gebouwd voor en door culturele werkers, buren, studenten en bewoners om collectief te leren, af te leren en duidelijke tactieken en strategieën te ontwikkelen om ons te verzetten tegen gentrificatie binnen onze gemeenschappen. We hebben allemaal iets te delen en iets te leren. Breng je zorgen, vragen, verhalen en ervaringen mee, zodat we kunnen beginnen met het in kaart brengen van onze medeplichtigheid en verstrikking in het proces van gentrificatie.
Toegankelijkheid info: Het gebouw is helaas niet toegankelijk voor rolstoelen. De discussie zal deze keer voornamelijk in het Engels zijn. Om te RSVP-en of als je vragen hebt kun je ons mailen: cultural.workers.unite@gmail.com
Resources